Genesis is an enhanced Cloud Point-Of-Sale designed especially for Salons. A system that fits your salon is finally here!
Appointments
Book and manage appointments for individual servicer.
Customer Relationship
Bring your customers closer to you.
Stock Management
Let us manage your stock and inventory for you.
Package Tracker
Start tracking your packages with our powerful Package Tracker.
Commission Calculation
We have commission calculations built in for you.
Franchise Ready
You can easily track sales of your franchisees individually with real-time information.
Beautiful yet powerful and reliable. The Apple iPad Air is a workhorse capable to powerful your business with Genesis Salon. Reliable in stability and virus-free, and powerful with ready on board features that we use in Genesis Salon such as Bar-code scanning and Sign on Glass.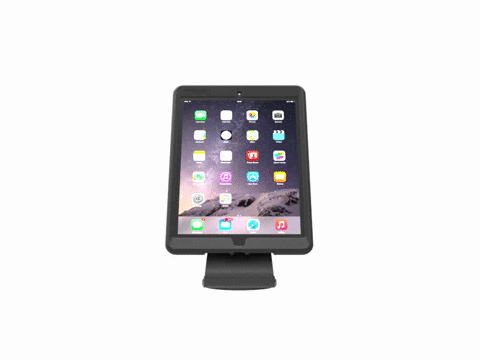 Hand Grip and Dock iPad Security Stand. The iPad Hand Grip is designed with a 360 degree screen rotation, between portrait and landscape orientation modes, for full user interaction.
Star TSP654IIE LAN Receipt Printer
For thin receipt printing, Star printers are industry leaders. Fast and reliable thermal printing, the Star TSP654IIE LAN Receipt Printer are equipped with an auto-cutter. Perfect for space saving solutions on counter tops.
C4141B Cash Drawer – C4141B Cash Drawer
This 41cm x 41.5cm x 10cm heavy-duty cash drawer is printer-driven, so it automatically pops open when you process a sale. It encloses 5 fixed bill slots and 8 fixed coin slots with 2 media slots in the front.
Metal cash drawer with heavy-duty ball bearing rollers
Two Media Slots
 – Removable Money Tray & Coin Case
Adjustable Bill & Coin dividers
5Bill / 8Coin
3 – Position Key Lock
Interface: RJ1 1 / RJ12 Receipt Printer
Durability: 1,000,000 operations
Because we know its benefits, we want you to enjoy all the best features you need right from the start.You get to enjoy the full Genesis Salon experience for your business type right from the start.
iPad

Features

Additional Features

Access to all Reports

SMS Connect (Optional)

Support & Updates
For One outlet

Full Access to all Features

✖

✔

✔

✔
Per Outlet

Full Access to all Features

Multi-outlet Features

✔

✔

✔
Per Outlet

Full Access to all Features

Franchisor Management

✔

✔

✔
Let's Get In Touch.
We Would Love to Hear From You!
Office Address:
33 Ubi Avenue 3 #07-50 VERTEX (Tower A)
Singapore 408868